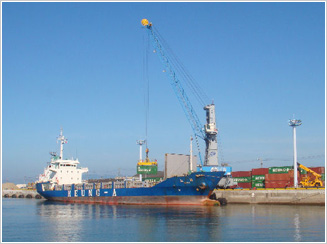 Regularly scheduled container routes for foreign trade
Regularly scheduled container route between the Port of Miike and the Port of Busan
The Port of Miike is involved in a new form of distribution by shipping containers to China and Southeast Asia. This enables the prompt reception and delivery of freight to respond to the trend in distribution toward small lots and the just-in-time system.

Reducing the land transport distance by using nearby ports lessens the possibility of freight damage during shipment and significantly assists the environmental protection measures by holding down CO2 emissions generated by land transport.